Earlier this year a client from my home town of Dursley phoned Tile Doctor in an emotional state having just had a Black Limestone patio laid and then immediately ruined when the tiler tried to clean it with brick acid. Limestone is a sedimentary rock composed primarily of calcium carbonate which can be dissolved in acid, so using acid on Limestone is never a good idea.
I went along to survey the patio and could immediately see that the stone had been bleached white by the acid and looked terrible. Whilst there I completed a test clean to work out the best method for renovating the patio. Much to the relief of the owner the results were very encouraging and so she was happy to accept my quote and I was booked in to do the work.
I needed a couple of warm and dry days to do the work but fortunately the weather this summer was exceptional, so it wasn't long before an opportunity arrived.
Cleaning a Limestone Tiled Patio Floor
I spent the first day burnishing the tiles with 200, 400 and 800-grit diamond pads using the rotary machine in sequence, these pads renovate the surface of the stone and remove the etching caused by the acid. Water was used to lubricate the process and the floor was rinsed with fresh water after each pad and the soil extracted with a wet vacuum.
Sealing a Limestone Tiled Patio Floor
The patio was left to dry off overnight and I returned the next day to finish the renovation checking first that the stone was dry with the use of a damp meter. The readings were good, so I went ahead and applied a single coat of Tile Doctor Stone Oil which puts the oil back in the stone.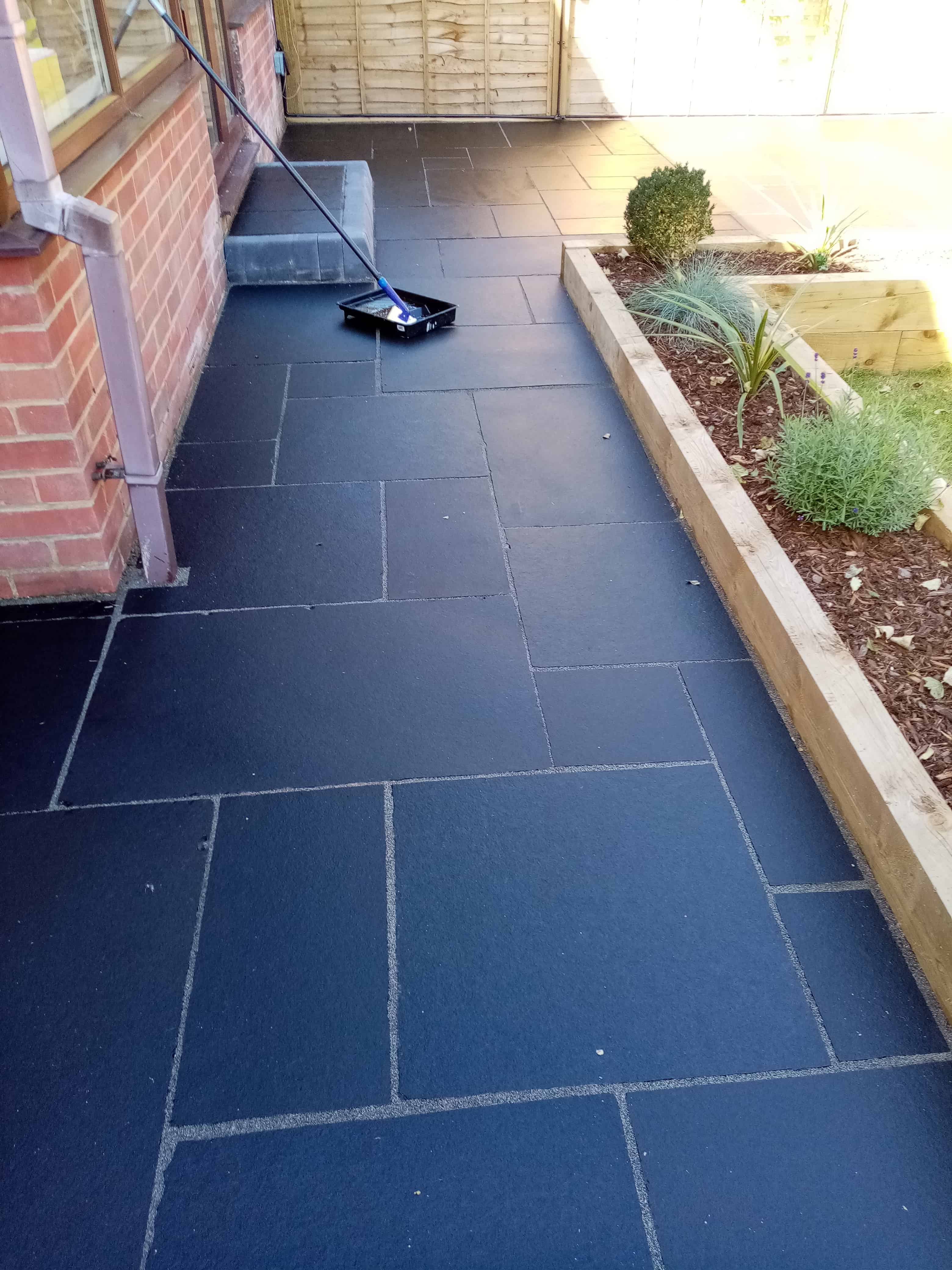 The Stone Oil was left to dry for an hour and then this was followed up with two coats of Tile Doctor Colour Grow sealer to add protection. Tile Doctor Colour Grow is a colour intensifying impregnating sealer that allows the surface to breath and enhances the colour as well as providing durable protection. The patio will now be able to withstand the outside weather and the stone will be protected from the elements. For maintenance we recommend the patio to be cleaned and resealed annually which will keep it in great condition and extend its' life.
The results were amazing, you would not have thought it was the same patio, needless to say, my client very pleased by the transformation. Apparently, she has now managed to squeeze in a few late summer barbeques with friends to show off her lovely new patio.
Professional Restoration of a Limestone Tiled Patio in Gloucestershire