Limestone is known on the international market for its premium toughness, durability and aesthetic characteristics. This can make it difficult to maintain however, especially if the stone has been polished and lustre on the stone has started to wear down which is inevitable with use.
The traditional method of getting a the shine back on polished stone is called honing which is expensive however at Tile Doctor we have worked out a much more affordable process called burnishing which utilises different grades of diamond encrusted pads to clean and then bring up the polish.
I recently undertook the restoration of a large area of Limestone tiles in the kitchen and lounge of a property in Yate, Gloucestershire. The floor as a while had become dull and dirty – and was long overdue some professional attention.
Burnishing a Limestone Tiled Floor
Before starting I removed the kick boards from the underneath the kitchen units so they wouldn't get affected by the cleaning process. Once prepped I started the burnishing process which is a chemical free process that uses a small amount of water for lubrication and a quick rinse between the use of each pad. I started with the first of the four burnishing pads which is a coarse 400 grit pad that designed to grind away the dirt and old sealer on the surface of the floor.
After applying the first pad, I moved my way through the medium 800 and fine 1500 grit pads to gradually build up the shine. As the floor became cleaner it became apparent the grout lines were not in particularly good condition as well so I opted to clean these using a stiff grout brush and Tile Doctor Remove and Go which is specially formulated to remove old sealers whilst tackling dirt and stains.
After completing the clean and giving the floor a final rinse I extracted as much moisture from the floor as possible using a wet vacuum and left the tiles to dry off overnight.
Sealing a Limestone Tiled Floor
Returning to the property next day, I tested to check tiles were dry and then proceeded to buff the tiles once over using the last of the four pads which is a 3,000 grit burnishing pad that finished off the polishing process.
Finally, I applied two coats of Tile Doctor Ultra Seal, which is an impregnating dealer designed to provide maximum stain production with a natural look finish. I buffed further in between each coat to ensure the best possible polish was achieved.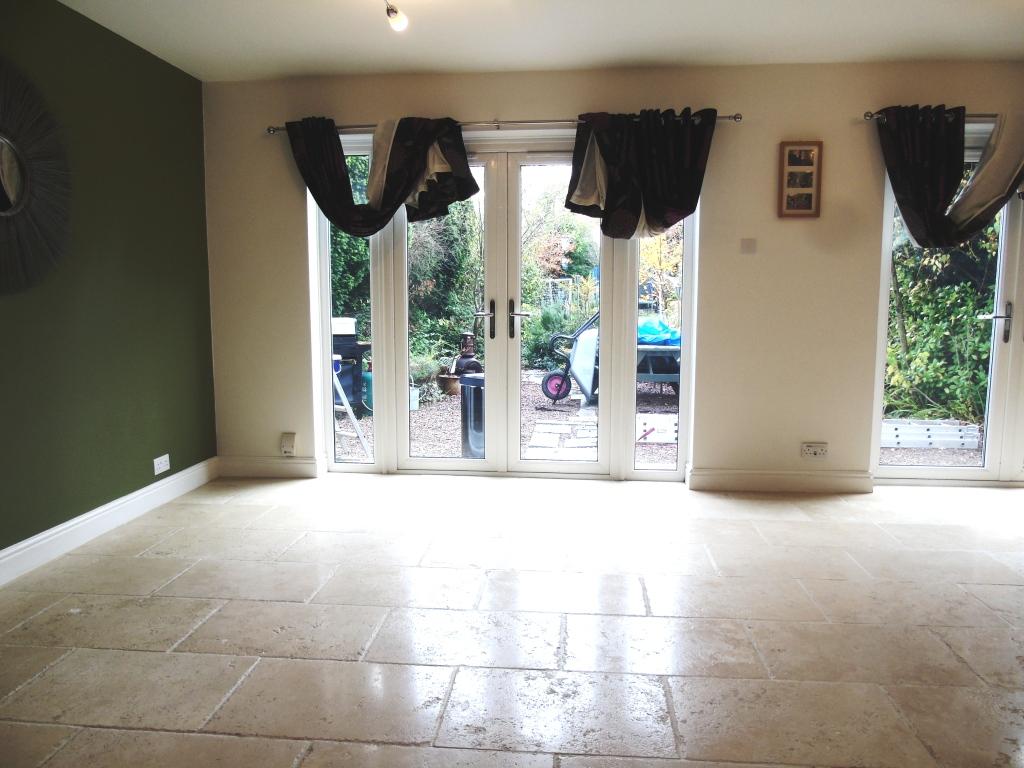 This was a tricky floor to photograph due to the sunlight streaming through the windows on both days but hopefully you can appreciate the difference as much as the customer can.
Professional Limestone Floor Polishing and Sealing in Gloucestershire